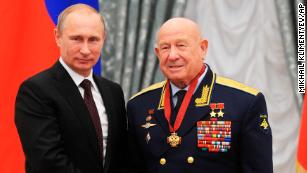 Russian cosmonaut Alexei Leonov, right, and Russian President Vladimir Putin pose for a photo in 2013.
(CNN) —
Alexei Leonov, the first person to perform a spacewalk, died this week. He was 85.
Though Leonov wasn't the first man on the moon (a goal he wasn't shy about), he earned his own "first" in the space race between the US and Soviet Union. On March 18, 1965, he embarked on the first spacewalk, spending 12 minutes outside the Voskhod 2 capsule.
The first American to walk in space, Ed White, wouldn't do so until June that same year.
His funeral will be held October 15 at Mytishchi Military Memorial cemetery outside Moscow.